Electrical Distribution and Lighting Construction and Maintenance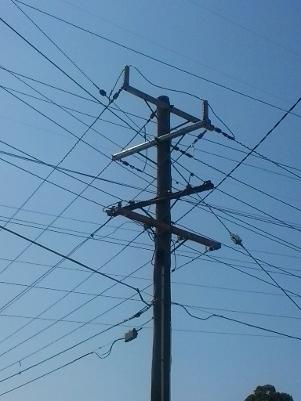 About Us
Over Head Maintenance Services have been building electrical distribution assets for twenty years. Everything from overhead distribution of high and low voltage, energy efficient public lighting upgrades for councils, large commercial works for government bodies and utilities, right through to privately owned assets.
Customer initiated works (option 2) is a large portion of our business. It is a challenging environment, but we complete jobs quickly and efficiently.
We have a dedicated team of experienced professionals who can perform works throughout Victoria. We occasionally undertake works in rail corridors and in other high risk environments.
Over Head Maintenance Services has completed projects for many city councils, motor corporations, industrial, water, telecommunications, roads,commercial retailers and construction companies of all sizes. We also connected power for one of Victoria's electricity distribution companies.
Services
We can manage all of your project needs from design review to installation and maintenance. We manage both overhead and underground works. We can project manage smaller projects and work well with many other primary contractors and project managers
Quality Policy
Over Head Maintenance Services recognises our commitment to providing quality relations, services, constructions and outcomes for our customers, stakeholders and the general public. To realise our commitment we will demonstrate through policy development that quality considerations receive attention on an ongoing basis to ensure that as far as practicable that we:
Develop and maintain the processes to undertake our business activities at a consistently high standard in accordance with the customer needs and expectations.
Foster good relations with clients and delivery partners through ongoing and effective communication, feedback and review.
Monitor and review the implementation and performance of our quality objectives.
Ensure our employees, subcontractors and partners maintain similar and consistent quality objectives and outcomes.
Testimonials
"Today's pace in construction places extraordinary demands on everyone's time, and it takes more than being a good 'mechanic' in your trade to get a job done. Overhead Maintenance Services should rest assured that their company is being well represented by Ross and his teams continued tenacious efforts on both of our Regional Rail Package C & M80 upgrade projects." - Darren Bloom of Thiess

"...job done with minimal fuss and no delays. Thank you OHMS team." - Martin of Chadstone

"Dependable team and quality works which exceeded our expectations." -Rachael of Toolern Vale